FLEXI-K9 - Multibuy - 5 Pouches
⭐️⭐️⭐️⭐️⭐️5 Stars! Made a Difference!
See full details
Boost your dog's suppleness and joints. There's a scoop for that!
⭐️⭐️⭐️⭐️⭐️5 Stars! Made a Difference!
"My dog is getting up there in age and I started seeing small signs of arthritis. After only one week of being on Flexi-K9, all those signs have disappeared! Now my boy is keeping up with my younger dogs and he is happy to play fetch and tug like he did when he was younger. All my pups are taking it now. I am so happy with the results."
- Julee S, USA
As our dogs age, they become less flexible. Joints begin to stiffen as the amount of lubricating fluid decreases and cartilage becomes thinner, making activity levels decrease as movement becomes more difficult.
When signs of aging, wear and tear and degeneration set in, we will help you get your dog back on their paws again.
Flexi-K9 helps to maintain your dog's youthful vitality by promoting the natural production of joint lubricant as well as supporting the body's antioxidant and anti-inflammatory processes. By combining 6 active ingredients in a handy scoop per day, see what the benefits are for your dog:
Transformational Turmeric & Black Pepper: Science has shown that Turmeric that turmeric supports the natural anti-inflammatory processes within the joint and promotes joint wellness generally in all ages. Turmeric contains 5% Curcumin, which is the main active ingredient, best known for its powerful anti-inflammatory and anti-oxidant effects!
Green Lipped Mussel: Green lipped mussels are rich in Omega 3 Fatty Acids, minerals, essential amino acids and glycoproteins and contain natural Chondroitin, all of which support and promote joint wellness in all ages.
Fish Oil Omega 3 Fatty Acids: Fish oil powder has been shown to support dogs

' 

hearts, joints, immune system and skin and coat! High in omega-3 fatty acid which are an essential type of fat that helps your dog

'

s body and brain. Dogs can

'

t produce omega-3 fatty acids on their own and must get them from their diet.
How Much Does My Dog Need?
Flexi-K9 is fed by body weight. Your dog only needs a small amount once daily.
Check out how much your dog weighs and the amount needed:
| | |
| --- | --- |
| Dog's weight: | Amount needed: |
| 0-10kg | 1 scoops |
| 11-20kg | 2 scoops |
| 21-40kg | 3 scoops |
| 41kg+ | 4 scoops |
What's in Flexi-K9?
| | |
| --- | --- |
| Composition per 1g serving: | |
| Glucosamine HCI | 100mg |
| Green Lipped Mussel | 80mg |
| Turmeric | 40mg |
| Boswellia Serata | 40mg |
| Fish Oil Powder | 40mg |
| Hemp protein | 40mg |
| Collagen | 40mg |
| Ascorbic acid | 20mg |
| Bioperine | 2mg |
Customer Reviews
Write a Review
Ask a Question
Filter Reviews:
Flexi
agility
dogs
difference
medication
anything
tail
girl
change
health
I recommend this product
Great
The senior dog seems happy with the Flexi, got alot more movement in himself. My only disappointment is the 1st one should come in a pot.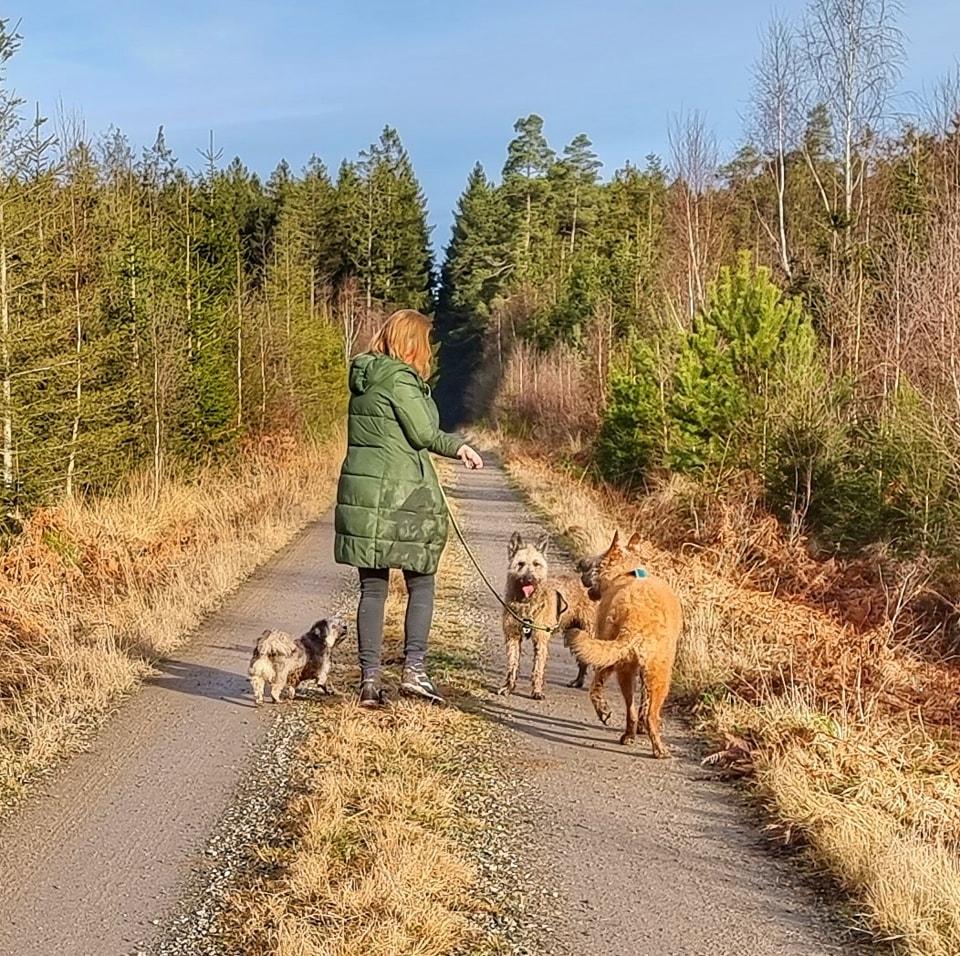 RH
06/01/2022
rachlardenoye@hotmail.com Huismans

Netherlands
23/12/2021
Jo G.

United Kingdom
I recommend this product
Effective!
Our almost 6 year old girl had surgery at 12 months old for a dislocating patella. She has been taking Flexi since it was released 2 years ago. In a recent CT scan the vet saw NO arthritic change in the knee joint which he thought was amazing for her condition.. the Flexi combined with fitness exercises is obviously doing the trick.
01/08/2021
Julie B.

United Kingdom
24/07/2021
A G.

United Kingdom
I recommend this product
Wagging
My senior rescue dog was quiet and feeling his age… he then tried the powders and it is like he young again, happy wagging, running more… and oh more wags! My husband looked up the ingredients and says he wants the human equivalent!
There's a lesson for that

Karl achieved off-leash freedom!

Owner, Lynn said "We are going through a unsettled time at the moment, we are moving and there are lots of different people in our house as well as cars, noises etc. it's not easy but I would not like to think of how he would be without Calm-K9."

See full Case Study

There's a lesson for that

Mabel learned she didn't need to get involved with every dog on her walk!

Owner, Maria said "Such a big improvement already – I can tell that this is really going to facilitate her training and allow her to focus more! We will definitely be continuing"

See full Case Study